Radon Risk Evaluation before New Home Construction
It is possible to screen a building site before construction in order to evaluate the risk for an increased radon level in the home after completion of construction.
This Radon Risk Evaluation is our specialty. We wrote a paper on this research and presented an invited talk to the radon community about it at the national radon conference organized by the American Association of Radon Scientists and Technologists (AARST) on September 28, 2005 in San Diego.
For home owners or builders who want to have this radon risk evaluation on their site performed, call Dr. Leo Moorman at (970) 416-0196 before construction begins. Depending on the building site a number of tests need to be set up.
The picture below shows an example of a test with a background calibration test next to it. This kind of test should only be interpreted by experts. At RHMM we have the expertise to perform a reliable test and give a solid interpretation of the result based on our extensive testing experience.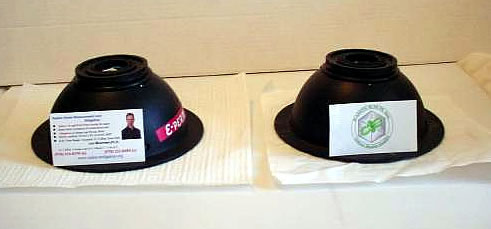 Radon Risk Evaluation with background calibration test.
A simplified scenario in case the home has only concrete slab flooring.

Use a layer that is at least 4" thick of pea gravel that is approximately 3/8" in diameter and install a draintile flexible corrugated pipe to PVC or ABS pipe TEE 4" sch.40 penetrating the slab. Use a rubber endcap to close off the stub before pouring the concrete slab.

Pour the concrete slab.

Caulk all expansion and floor joints flush with caulk as well as floor to wall joints and around all penetrations through the slab. (Use a liberal amount of caulk, i.e. fill the grooves completely. For wide cracks use backer rod.).

In Larimer County (Colorado) perform a test: depending on the subdivision a test must be done in order to obtain an occupancy permit. The requirement also specifies whether the home needs to be tested with an active test or that a passive test is sufficient.

Finish home and use radon barrier over all rough-in's that have sand exposed.

Live in home for a couple of weeks and perform a radon test. (Except Larimer County where the test may have to be done before finishing the home as stated above).

If a test indicates a radon concentration larger than 4.0 pCi/L but not much larger than 4.0 pCi/L a passive mitigation system may be sufficient and therefore cost effective. This means that a 4" diameter schedule 40 pipe system may be installed completely through the (warm area of the ) house. Such a system is known as a passive radon mitigation system as opposed to an active system. A radon concentration test done after this installation shows whether the passive system is sufficient. A well designed passive system can be transformed into an active system easily if the test shows that this is necessary.

If the initial test indicates a radon concentration much higher than 4.0 pCi/L it may be cost effective and faster to install an active radon mitigation system at once. An active system has an appropriately sized in-line turbo ventilator placed in the attic. (With a turn-off switch mounted in the attic and a monitoring manometer in the basement).
OBVIOUSLY THERE ARE DIFFERENT SCENARIOS FOR VARIOUS SITUATIONS (e.g. CRAWLSPACE). TO ENSURE THE MOST COST EFFECTIVE INSTALLATION WORK WITH A NEHA-CERTIFIED RADON SPECIALIST.
For instance in areas with high radon risk situations (In Ft. Collins CO, 75% of the homes tested above the EPA action level for mitigation) the builder may decide that on the long run it will be more cost effective to install a passive system in every home he builds. This means that the pipe plumbing through the home may be done immediately after the mechanical, plumbing and electrical installation and before the installation of drywall on the walls. In addition the builder may allow for an option to the prospective buyer to install a full active radon system if they desire.
AT RHMM WE ARE CONSULTING BUILDERS ALL THE TIME, PERFORM NEW HOME RADON TESTING AND WE ARE SPECIALIZED IN TRANSFORMING A PASSIVE INTO AN ACTIVE SYSTEM ON SHORT NOTICE, QUICKLY AND IN A COST EFFECTIVE MANNER FOR THE BUILDER.
Contact us for information about new construction radon issues.
<< Previous [Real Estate Transactions]

Next [Mold Testing] >>