A Radon Mitigation in Breckenridge, Colorado
Recently we installed an exterior radon mitigation system in one side of a two-unit residence in
Breckenridge in the center of Colorado.
The next few photos show the system after its installation.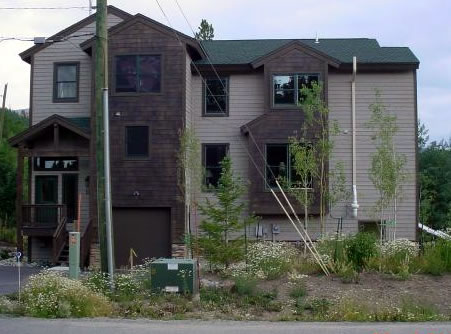 System view from side of building that is located in a beautiful mountainous area
Corner view of exterior mitigation system. Garage and front door are on the right side for this unit
View inside the garage shows four inch piping that ties into the subslab soil near the inside garage wall of the finished section of the home.
This could be done because the house had no interior footer under the interior garage wall, which is an exception to the usual situation.
The concrete plug, 6 inches in diameter and 5 inches thick, was cored out of the floor slab. This plug shows a pipe belongin to the floor radiant heating very close to the bottom of the concrete slab. The complication to hit one of these is an example of the many "unexpected" problems one can run into while retrofitting a radon system in an existing home:
After the system was installed we loaded our tools and rest of the material in our van and on our trailer and we are here ready to leave.
The exterior part of the system can be seen above our van from this viewing angle.

A Radon test will be set up Tomorrow and will be exposed for several days to the inside air under closed-house concitions after which it will be
sent to us by mail to determine the Post-mitigation radon concentration:
Indoor Air Quality Investigation at Western Wyoming Community College
At RHMM we can perform a physical test for certain sources of indoor air problems that may be threatening to your health, including common IAQ quality parameters and screening for common mold health hazards.
On February 18 and 19 we conducted such an indoor air quality investigation of all buildings connected by hallways of the Western Wyoming Community College (WWCC, Rock Springs) with a written report. This consisted of multiple location screening measurements including screening for molds as well as extended duration monitoring of IAQ parameters.
In the next pages we show a few photos from this investigation.
Chapter 1:
Entrance of WWCC building complex: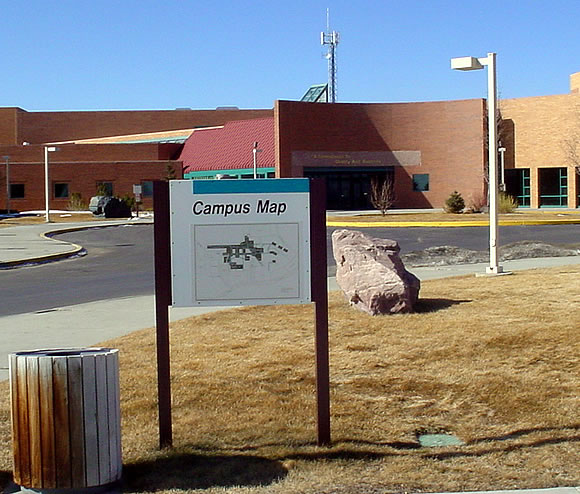 Three story Tyrannosaurus Rex skeleton before windows in Atrium: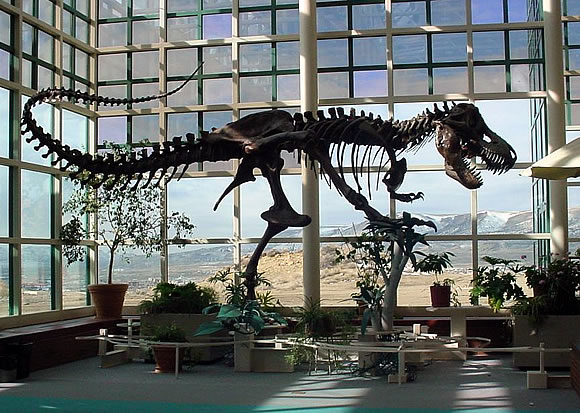 View of Wyoming plains through Atrium of WWCC complex: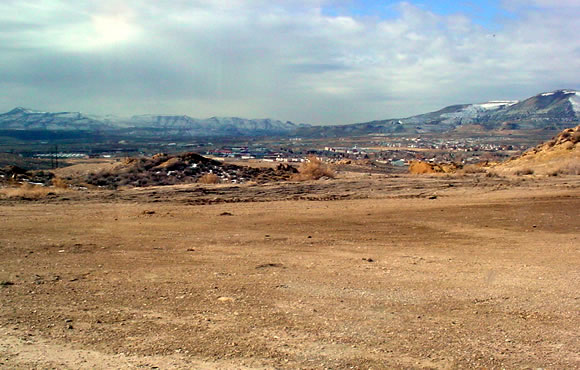 Chapter 2
Typical unit heater placement in hallway: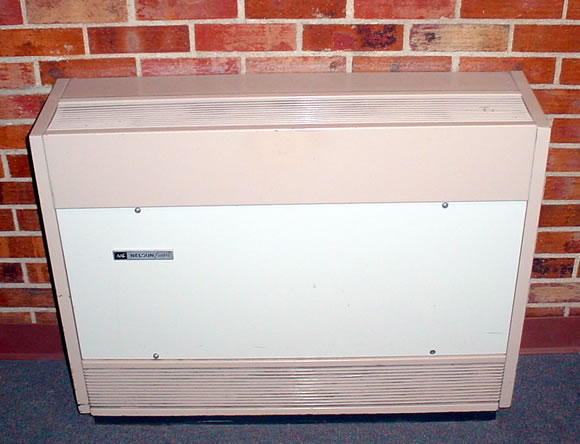 Typical vent above door: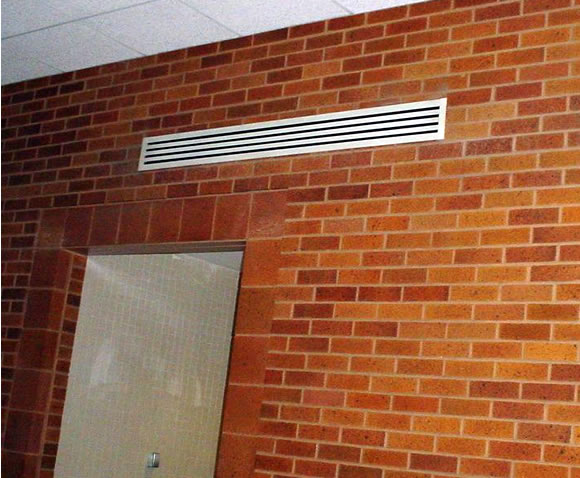 Typical vent in hallways: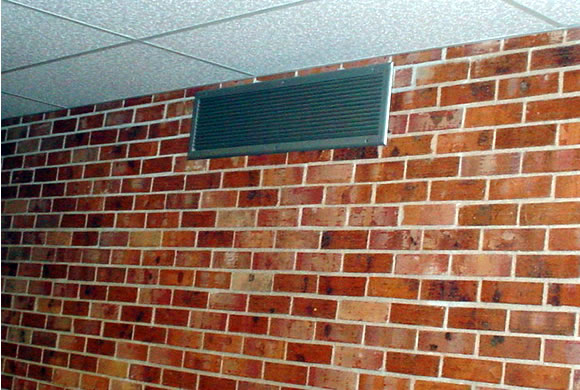 Typical vent below window: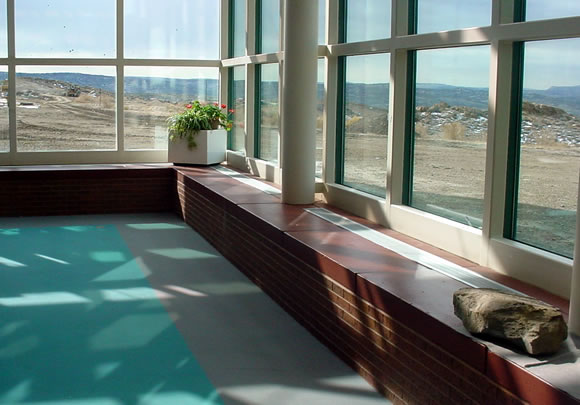 Typical vent in floor, here in the Atrium: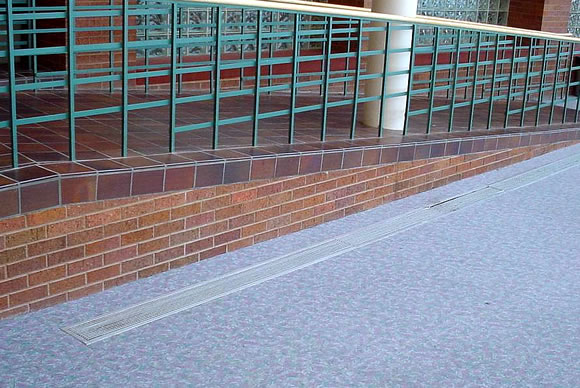 Smoke removal units in ceiling of Atrium (which is three stories high):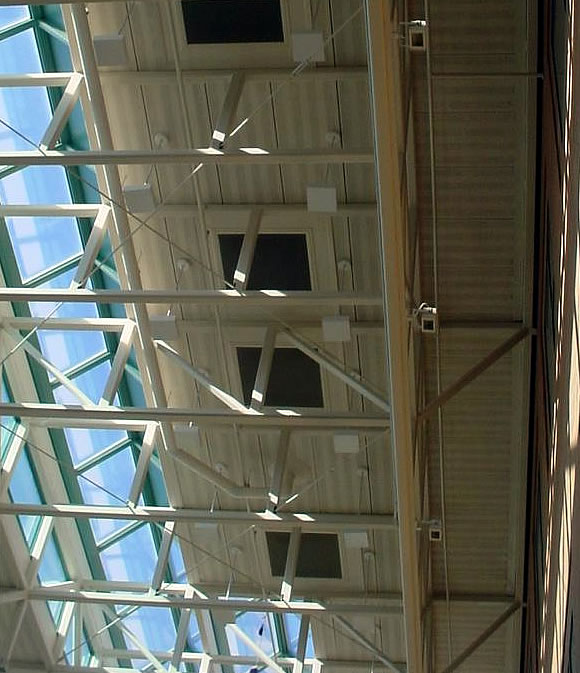 Large return vent on upper two floors of stairway adjacent to Atrium: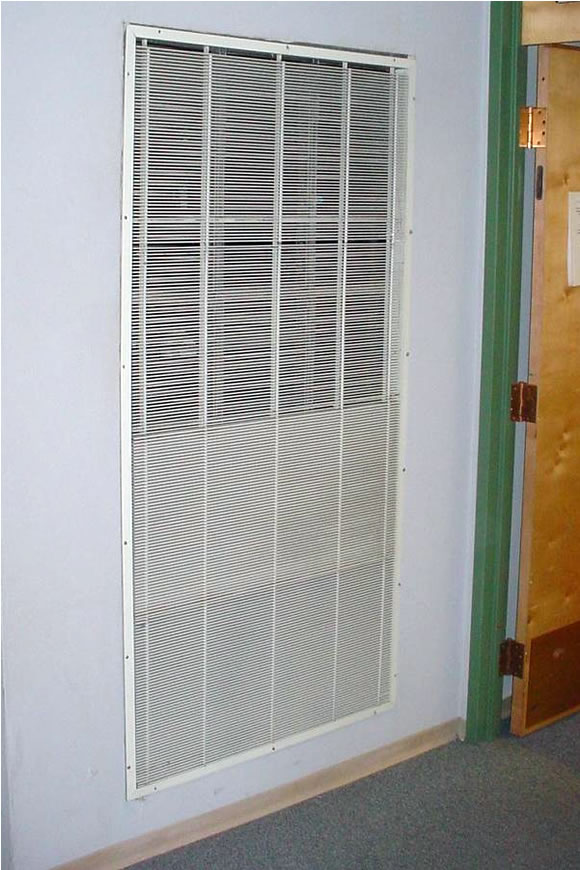 Chapter 3:
Setup of equipment for screening measurements of IAQ paramters. The IAQ-meter is located on top of the unit. The bio-pump, screening for molds, is loaded with an Air-O-Cell cassette on top of the yellow storage bin. The extension cord was used to prevent premature draining of internal batteries. The design of this integrated unit made it possible to perform all screening measurements within one day throughout the 500,000 sqft. building complex.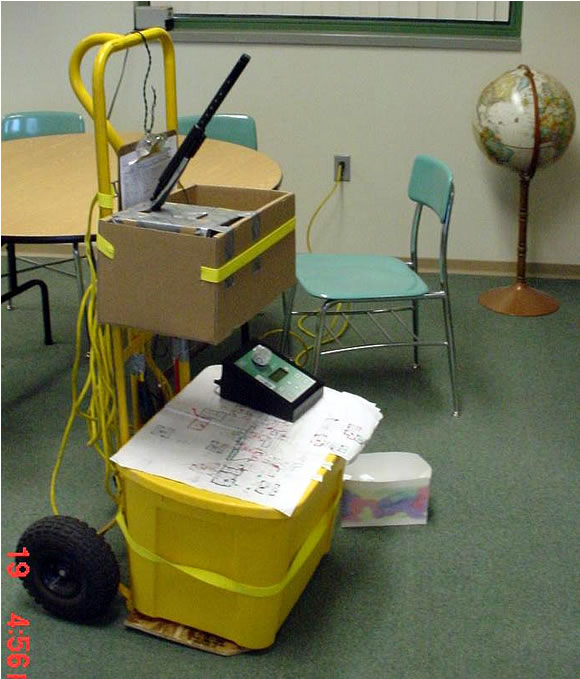 First outside IAQ screening in morning: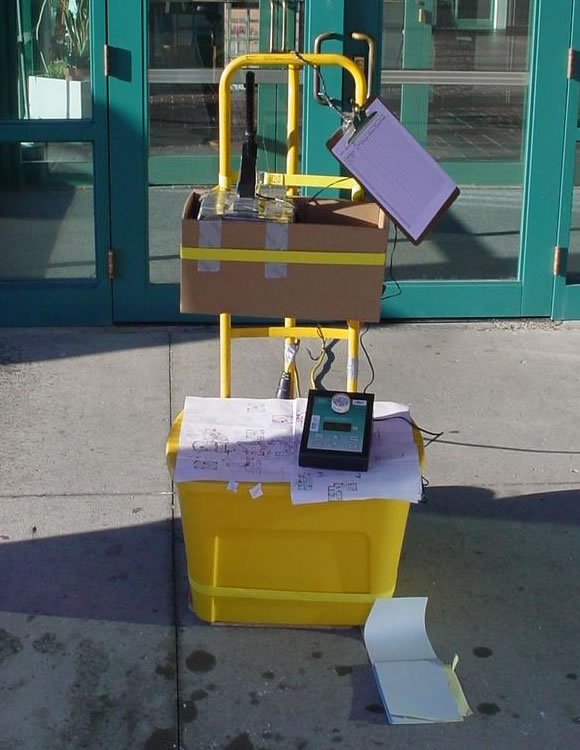 Screening data collection in theatre: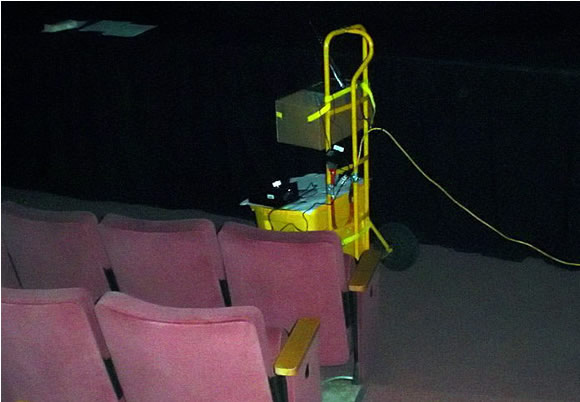 Screening data in Classroom: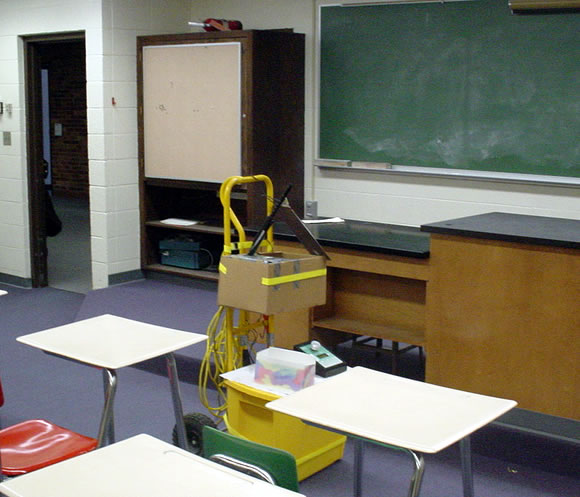 Screening data outside, second time at Noon: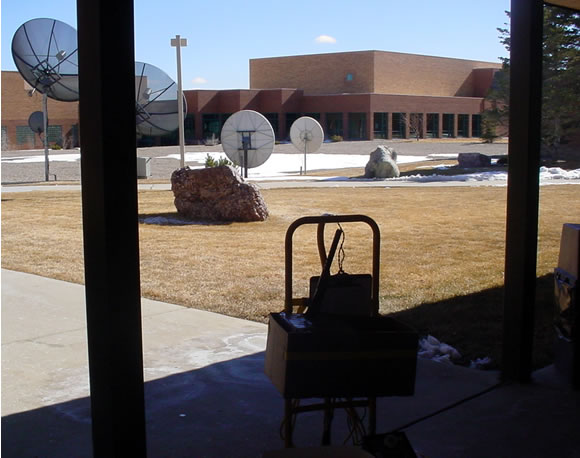 Screening data in gymnasium: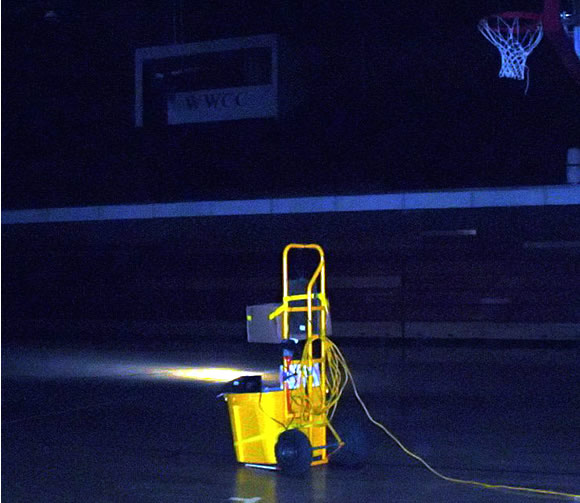 Screening data in gymnasium: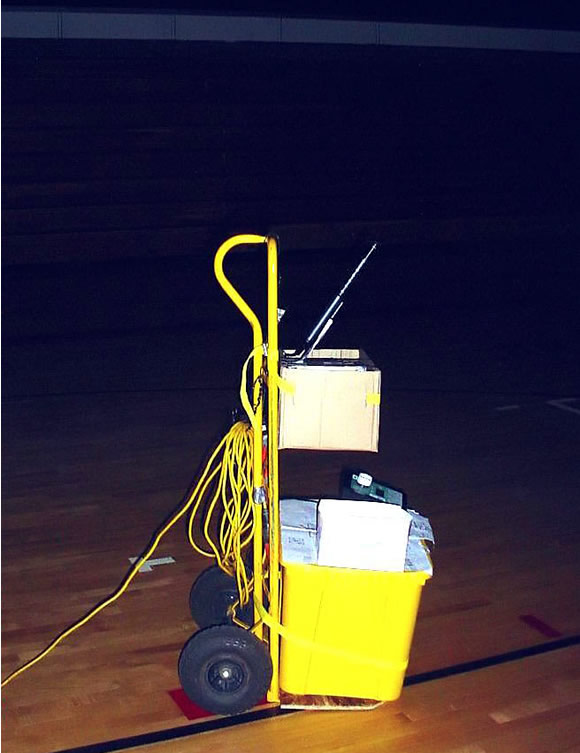 Screening data in office: